Torres Strait Islands - Queensland
The Torres Strait group of islands stretch from the edge of Cape York to lower Papua New Guinea. Spanish navigator Luis Vaez de Torres sailed through this passage of 17 inhabited islands in 1606. An intresting region to visit, the Torres Strait Islands are renowned for pearling, crayfish and the trochus industries.
With all this fantastic seafood on offer, you will find many small restaurants offering delicious seafood meals. Thursday Island (known as TI) is the major centre of business in this region, and is 35km north west of Cape York. See pearls being cultivated on Friday Island at Kazu - in operation for 46 years.
Or visit Badu Island and experience the rich culture of Torres Strait Islands. Horn Island is where the main airstrip is and was a major posting for Australian troops in WWII. Come visit the Islands of the Torres Strait and enjoy the friendly, welcoming people, culture and atmosphere of relaxaxtion that is abundent in the Torres Strait Islands archipeligo.
Average Climate for Torres Strait region

| | | | | | | | | | | | | |
| --- | --- | --- | --- | --- | --- | --- | --- | --- | --- | --- | --- | --- |
| | J | F | M | A | M | J | J | A | S | O | N | D |
| max c | 32 | 31 | 32 | 32 | 32 | 31 | 30 | 32 | 33 | 35 | 35 | 33 |
| min c | 24 | 24 | 24 | 23 | 21 | 20 | 19 | 19 | 20 | 21 | 23 | 24 |
| rain days | 22 | 21 | 20 | 10 | 3 | 2 | 1 | 1 | 1 | 3 | 8 | 16 |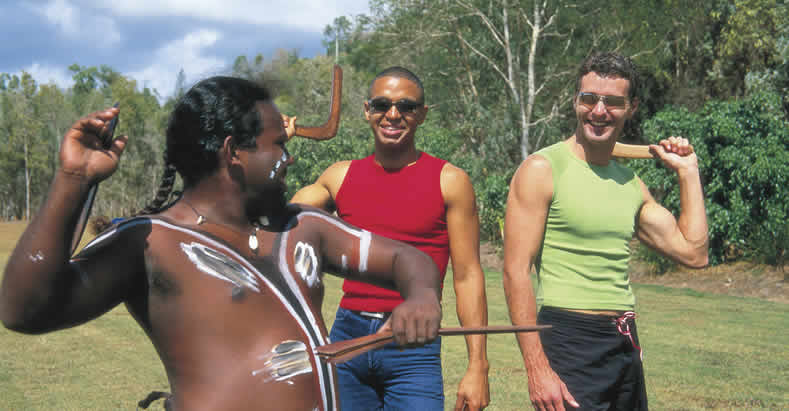 Return to Aboriginal Holiday Destinations
Photos courtesy - Tourism QLD