Website design trends to keep an eye on in 2021
Your website is often the first point of contact a prospective customer will ever have with your brand. With more and more people discovering new brands for the first time through organic search (such as Google), it's important that you focus on providing the best possible first impression - as the old adage goes, you only get one chance to make a first impression.
An eye-catching design can make or break that first impression.
Get it right, and a new visitor can quickly become a loyal customer as they navigate their way around your website.
Get it wrong, and you may find a prospective customer quickly hitting the back button and finding a brand that delivers the 'wow' factor when it comes to website design.
Over the past decade, website design trends have come and gone, however, as we head through 2021, there are some trends that you shouldn't ignore if you are thinking about sprucing up your current website or you are starting out from scratch and looking for a website design inspiration.
It is, of course, important to choose the right website design company to work with and it pays to do some thorough research. Review their current projects, their own website and any case studies and make sure they are creating websites that not only deliver the wow factor from a design perspective but that also deliver when it comes to user experience (UX). The two should go hand in hand.
It's also important for you to understand what makes a good website design for your customers. Just because a website design works really well for one brand doesn't mean it will resonate with your own audience so make sure you are tailoring your design to your audience and make sure there are no misunderstandings when you brief in your design to your chosen agency.
No matter your brand, there are a number of trends you should seriously consider when designing your website. Here are some of our favourite trends for 2021:
White space
Whilst it is always referred to as white space, in design terms, white space simply means areas of the page with no copy/content. This space can be white, black, blue yellow - any of your brand colours, however, its purpose is to make the main content on the page stand out without the surrounding clutter.
Many of the world's leading brands have embraced the use of white space. Think Netflix with their black background and strong use of their primary brand colour red. Similarly, online casino site Betway uses a black background to accentuate their primary brand colour of green. Amazon is another brand that uses a lot of black 'white space' on their site.
White space is a great way to create a very clean website design that is extremely appealing to visitors in 2021.
Asymmetric layouts
Many of the world's leading websites rely on symmetry to help people to easily navigate their website. Thinking of sites like Netflix, Amazon, Stan and leading retail sites like ASOS and Kmart - these sites all rely on symmetry to help you to find what you are looking for more easily.
This type of website design works perfectly for these particular sites, however, imagine if you wanted to stand out from the crowd.
Asymmetric layouts present a different set of advantages: the results are more dynamic and daring, and they give you more freedom of design. It's a common misconception that asymmetry is synonymous with a lack of balance, so don't let an asymmetric website layout discourage you. Every website can have visual balance regardless of symmetry.
Asymmetric designs also allow you to emphasise one area of the page over another - adding weight to a particular aspect of a page simply by using different sizes and colours. This can really help to improve conversions for particular products or services by drawing the eye away from other aspects on the page that are not as important.
There are lots of examples of the use of asymmetric website design - this example from GQ Japan is one of our favourites: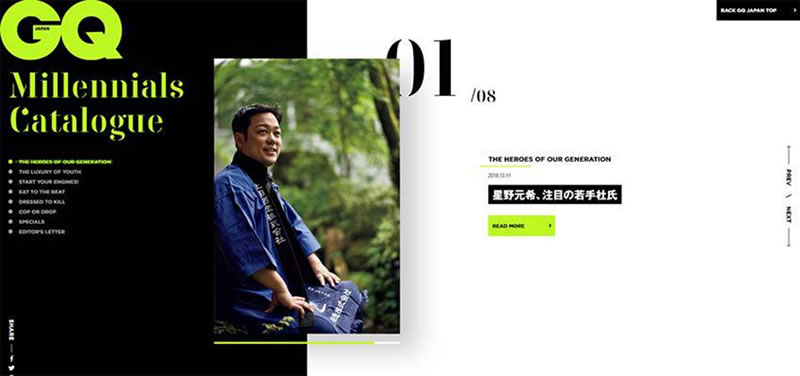 Images and illustrations
Images have been an important aspect of good website design for forever, however, we are seeing a much bigger focus on the use of original images and illustrations and a move away from stock imagery.
Illustrations breathe life into your brand and website.
When it comes to illustrations, some of the best examples of website designs in 2021 pull inspiration from print publishing and other traditional art formats.
When it comes to images, original is king. The images you choose to use throughout your website need to reflect your brand and not every other brand out there. If you rely heavily on stock images, people will get no real sense of your brand's identity so invest the time into original images that truly showcase your brand.
We can see below how Mailchimp uses original illustrations. This example is from their homepage, however, you will find these original illustrations throughout their site and you get a real sense of the personality of the brand from these illustrations: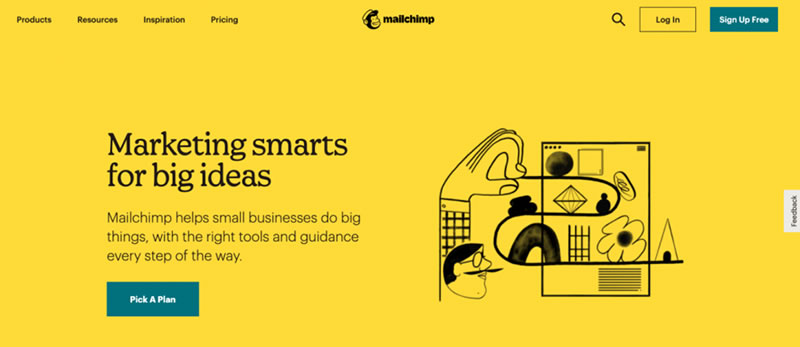 However you choose to brief in your new website design, be sure to put UX at the heart of everything you do. Whilst it may be great to have original images and illustrations on your site, can these be optimised so they load quickly? Is there enough white space to allow your content to shine, no matter how it is laid out? Is your website design mobile-first?
Put the user at the forefront of your website design and ensure it's not only eye-catching, but super-easy to use. That way, you're on a winner when it comes to getting more people to do what you want them to do when they visit your website.